While we were off in Colorado last week (what, you didn't know?), we strolled the quaint shops of Boulder (and even got Daddy to go to a left-wing bookshop... he even BOUGHT stuff... I was so very proud of him), and, while there, we got a very interesting deck of cards... may I present to you,
The Tragic Royalty
deck! (I indulged my Gothic side for these... they match my
Complete Tales and Poems of Edgar Allan Poe
tome quite splendidly, mefinks.)
Why do I tell you this drivel? Well, it stems from my mother, really (she's so cute).
As we were looking at the face cards, she looks at the king of spades, smiles and asks me who I think it looks like.
I had to admit, the face was somehow familiar, but I didn't have any idea who it could be...
A comparison...
King of Spades...

Niles, The Butler (from The Nanny)...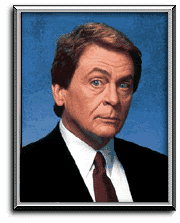 You be the judge.
SONG TIME!
I dedicate this one to my Daddy, who had the audacity to ask me (just a few days ago, in fact), and I quote, "who's Donovan?". I blame his mother, she didn't let him be a kid.