It has been a typical day at our house: Stella has been running scared from a rogue horsefly; my Grandy just stopped by to say hi and pick up an extra slice of cheesecake; and I have been annoying my mother with videos of The Maine, because I am bound and determined that she should know who she's going to see in less than a month when I take her to their Acoustic Evening With... tour. Between the tea drinking and usual ass-hattery that goes on at Fusspot Farm, it is time to pause for a few moments for our annual anamnesis. Since today is the final day of 2013, it feels prudent to think about some of the things we have been doing outside of operating rooms and pointless college courses.
Reginald Kitty is not amused.
*February:
San Antonio
;
The Who
*March: We were mainly busy with family things, but the early part of the month was marked by the loss of my boy, Nigel. To everyone else, he is a bird; but my little pop-punk prince and I know better. I continue to miss him, and his lessons, every day.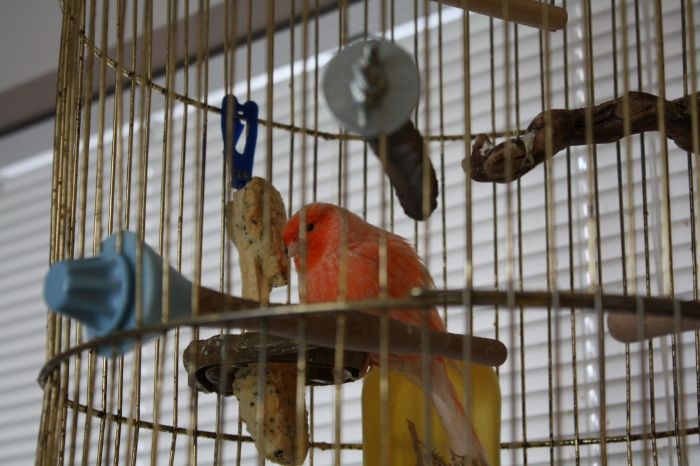 Isn't he beguiling?
*May: Back to Tulsa for Paul! Twice. Perhaps you'll hear the story one day when I'm feeling talkative.
*July: The 8123 Tour! So many memories there -- potatoes and spoons, kids, potatoes and spoons.
*August: I was rather indisposed due to my somewhat major
spinal surgery
.
*September: Galveston! We had a great time there, actually, considering it is the beach.
*October: Austin/San Antonio; Dallas
*November: Dallas; our annual trip out to Las Vegas was eventful this year: we went to LOVE, of course, but we also saw Ringo Starr, and Michael Buble, which was a hell of a treat.
*December: In the early part of the month, while we were in Dallas, we went to see Donny & Marie's Christmas show -- yes, a fun time was had by all, including me. Don't forget, I also had that horrific nasal surgery (honestly, you feel like you're dying for about ten days; I didn't handle this one well).
When we add together some other family things, like moving my granddad, starting up at UT Arlington, and some other health issues within the family, it's been a tough one. My mother told me this has been the hardest year of her life, so I don't feel it's that far of a stretch for me to claim that this has been one of the most difficult for me, too -- maybe not the hardest, but close. I was able to take some pretty cool pictures, though, so that helps.
During all of this, we have been able to find our distractions, naturally. First, let's look at some of the fantastic television we've watched and imported this year.
We finally got to say goodbye to one of the greatest television shows of the new millennium, and it was well worth the nearly three year wait. It was a satisfying end to an endearing series.
Seriously, if you haven't been watching Call the Midwife, you've been missing out. The new season starts January 19th in the UK, and heaven knows when in the US; I just hope we'll be able to find it somewhere, because I hate to wait for my stories.
I know most of America hasn't seen the new series of Downton Abbey, so this is a spoiler-free video. Seriously, though, I don't wait for my stories if I can help it.
Has anyone else been watching Bad Education? Such a cute show; don't ask me, though, since I think Jack Whitehall is hilarious, regardless -- he's got good comedic timing.
Does anyone else feel that Fresh Meat is just going in circles on some points? Don't get me wrong, I love where they took Howard this series, but the Kingsly/Josie storyline is feeling a little Ross/Rachel right now.
Community didn't die! Don't forget to watch January 2 when the new season premiers.
Naturally, The Bachelor is our sacred ritual.
And The Bachelorette is our most sacred of all Bachelor rituals.
What keeps me most sane -- or close enough to sane, anyway -- is always the music. It must have been that whole doomsday thing that happened last year, but damn near everybody I like was spurred to make fantastic records left-right-and-sideways this year.
Miles Kane, how I've missed you. This boy knows his rock and roll. If this song doesn't make you want to rip apart a government building brick by brick, then set it on fire, I don't know what will. Did anybody catch his set at Glastonbury this year? Amazing; and a Union Jack motif to boot -- reminded me of this, and made me happy.
I really wish they would have released these songs on a separate EP, rather than an extended re-release; that's life, though. It doesn't change the fact that they released four new kick-ass songs.
Rocket's last record was great. On the 8123 Tour this summer, they played a few songs from "Wild & Free", and it was a fun experience. Gonna miss those four guys playing together.
What did I say precisely one year ago? Intentional or not, demos were leaked, and we got the unofficial Ryan Ross solo debut. Sounding good, indeed; I hope there's an album of finished material soon. Also, if you want it right-the-hell-now, this was a free download. Treat yourself.
And, because God loves me, everyone I love also gave the world new material.
This record is typical Paul. A triumph; seriously, if you don't have it yet, just go get it, it's worth the money, you will thank me after you hear it (but get the deluxe, it's got two extra tracks). Maybe, though, let's not wait so long for more solo work, OK, Paul? What a babe.
Why do I love them? Their material is so hard to get hold of. I don't care, I love 'em, anyway. Also, thank the good lord the Big Bad World jacket (kind of) made its return (yes, that's "So Wrong, It's Right"-era Alex Gaskarth interviewing the Plain White T's during the "Big Bad World" album cycle -- life is beautiful).
Not only did The Maine give us "Forever Halloween" this summer, but they gave us "Imaginary Numbers" earlier this month. Seriously, go get it, it's gold; "Lovely Sad" has a "Ram"-esque quality to it -- you know it's got to be good if "Ram" comes to mind when you hear it.
If you don't smile and/or dance while watching this amazing clip, you are not human, and need to return to your mother planet. Honestly, it was like watching the opening scene of Pirate Radio.
Even my YouTube suggestions get it.

I find it interesting to look at last year's New Year post, and compare it to what actually happened this year.
*Paul did release an album.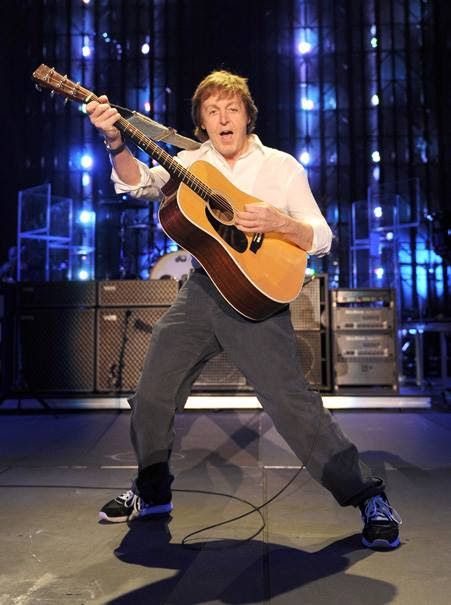 Look at you, being adorable.
*Lots of amazing people made fantastic art, and gave it to the world.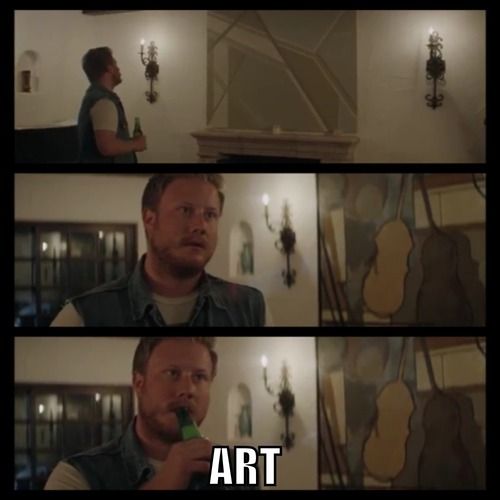 *And there were many, many big decisions to be made.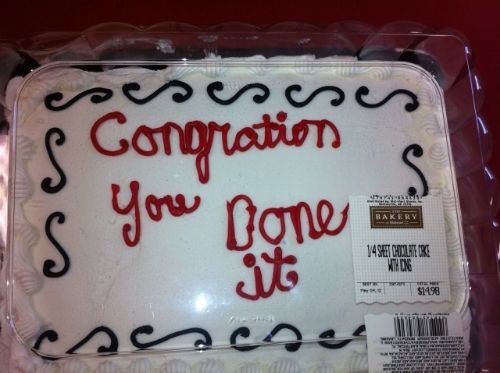 Considering my predictions for 2013 were pretty spot on (weren't they, weren't they), I'm not even going to try and think about 2014. Perhaps this apathy will last forever! As of right now, I have no plans for the new year, and I'm just going to sit back and wait for it to happen to me. So much went on this year, I wouldn't be surprised if the next twelvemonth was a decline; I also wouldn't be surprised if it snowballed on me, too.
All I will say about 2014 on this final day of 2013 is good luck to the United States, and God bless rock and roll.