You may have noticed that posts have been rather irregular this month; why, that's 'cause we've been busy little monkeys!
We packed up and headed down to South Padre Island for a week... now, as someone who doesn't like tropical weather/scenery/lifestyle in general (that, and I have a tendency to go stark raving crackers on SPI), I was more excited about our leisurely trip home through the Texas Hill Country (I love it down there, it's so peaceful). Though the pictures don't reflect that, here are some snaps from the last week...

And now, some highlights of the week:

*You can no longer climb the jetty in Dolphin Cove; this was a major disappointment.
*We saw nine seagulls without feet (maudlin, but true).
*H-E-B Grocery does not, in fact, stand for Holy Edibles, Batman; this was also a major disappointment...
that is, until we looked at the Wikipedia page. Now it's just a great laugh.
*Organic milk doesn't really taste all that different from regular milk.
*Half battery on your iPod will last you from Fredericksburg to home. Yes, it will.
*According to a British lady, I've got great taste. I think it's one of the best compliments I've ever gotten.
*San Antonio has a violet farm. I spent money.
Would you like to see my pretty new flowers?
Of course you would!


Well, pretend.




*I should really clean out my computer bag more often.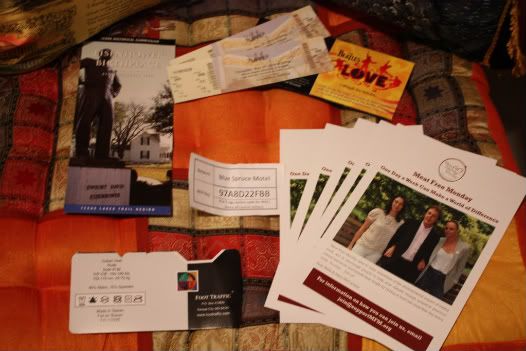 What you're looking at:
1) Our LOVE tickets from May.
2) Meat Free Monday literature from July's Paul concert in Denver.
3) Apparently I bought a pair of hose for LOVE, too.
4) Eisenhower's birthplace brochure... during The Great '09 Paul Pilgrimage from Tulsa to Dallas.
5) In the middle there, is the Internet access code for the our hotel in Lamar last October.

You'd think we like to get out and go... or, more accurately, that I like to blog when we go.

Overall, even through the sun, heat, humidity, and stupid people, we had a great time!
And you know what? I got to spend time with the Remasters while we were gone,
so prepare for some serious fangirling soon.
Aren't you excited?