I miss a lot of things, but John Ono Lennon's birthday is never one of them. Over the years on this piece of the Webbynet, we've talked about many of John's facets; in planning this post, I had to stop and ask myself "
what else can be said?
". I rattled my brains, trying to come up with something I have not proclaimed time and again, when I stumbled upon the very thing I needed, quite by accident.
It is fairly obvious that I tap into my inner Rob Gordon frequently: making playlists; mix tapes; arranging and playing with other people's material; and, especially, looking at how artists I love are playing with that material, too. As I was reading
a playlist
that The Maine recently took part in compiling, what John O'Callaghan wrote about a superb
Double Fantasy
track said everything I could have wanted:
John Lennon - Watching The Wheels
I am reminded of a dear friend when I hear this song. One of the many reasons I adore music, it's ability to arouse nostalgia. I know where I was when I first heard this song, who I was with, what we were doing, etc. Beautiful song, beautiful arrangement, beautiful nostalgia.
After reading this, the puzzle started to come together.
I recently underwent a somewhat major -- albeit elective -- surgery; though, in my mind, I knew I had chosen wisely to move forward with the procedure, even on the day before the surgery itself, I was emotionally uncertain. That day before, however, my best friend sent me a fantastic present: a 1980 pressing of the "(Just Like) Starting Over/Kiss Kiss Kiss" 45.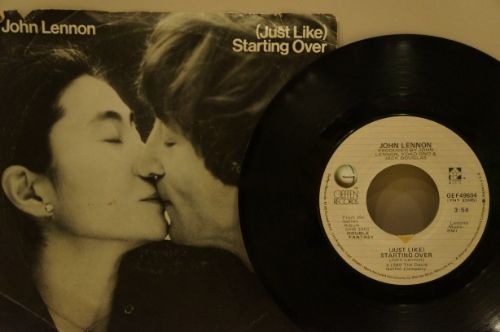 Though he didn't say it (he often leaves me to guess what he intends, and we both love it that way), I knew his meaning behind the gift was that he would be with me to help me, and to wish me good luck in "starting over". Of course, no other song would have meant as much, since this particular song has been distinctly prominent in our relationship almost since its beginning, and continuing since. He and I are separated by a great distance, but, in this way, he was right beside me when I needed him.
And, in piecing these things together, that's the part I had never really talked about. Of course, all of the things John has done still impact the world today, but in how many forms? Sure, we can all watch interviews and film clips that prove his merits as a creator, but has anyone stopped to think about the impact of these pieces at the disconnected-from-the-artist-solely-personal-public-domain level? Not just because John is a great artist, but because his art touches people in the most magnificent ways -- and it doesn't look like it will stop doing so in the foreseeable future. As a kind young drummer once told me, music is magical; if that is true -- and we all know it is -- then John Lennon must be one of the best magicians I know of.
It is time to raise a teacup: my guy, these years are adding up, and of all the love I have, it's due very much to you. Multicolor monotones, electric cacophonies, and forever to figure it all out. Bless and keep, love and love, and happy birthday, darlin'!
Be sure to check out the lighting of the
Imagine Peace Tower
at three o'clock central time, and, because interviews and film clips never hurt to watch, birthday tributes for both John and Sean from
2009
,
2010
,
2011
, and
2012
might be a good way to celebrate.