October 9th is a holiday in our house. No, not because of
Leif Erikson Day
.
It's Johnny's birthday!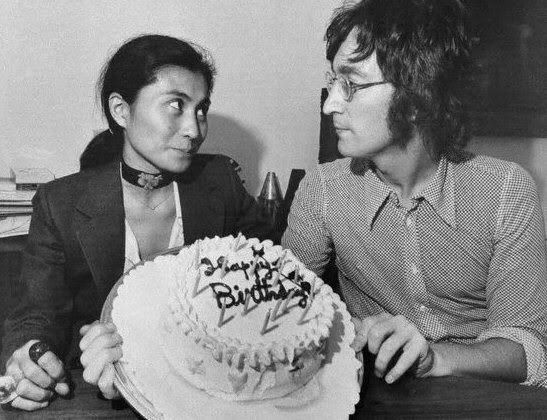 Let's also remember that it's Sean's birthday, too; that fact so often goes unmentioned.
Read the article
, it's fascinating.
Over the last couple of years, we've celebrated different aspects of John's life and career -- and I'm particularly proud of
last year's post
-- to the point where I'm not sure what to say. There's only so much the Internet can do when trying to honor someone like John. If you're looking for something to do today, have a look at some of the happenings.
* Yoko will be lighting the
Imagine Peace Tower
in Iceland at three o'clock Central Time. She is encouraging that wishes be sent through the appropriate social networking channels, et al, if anyone cares to participate. Be sure to check out the live feed, too; purty colors in the sky, and the Tower lit up makes for a pretty sight.
*
Yoko has also arranged for a special art exhibition in New York City this weekend.
I've been to a couple of exhibitions of the lithograph collection, and it was a glorious experience each time. Even if you can't go to a showing in person, check out some of John's work. My favorite is "Jock and Yono".
*
Breakfast With The Beatles
will be in front of Capitol Records, where John's star on the Walk of Fame is located, for a cake cutting and fan pot-luck. Not sure how that's gunna work out, but be sure to tune in for that. In general, it'll just be a big ol' party out on Hollywood and Vine.
So what if this party was forty years ago, it's still a party!
* Remember those awesometastic-magic-gear-cool-awesomesome remasters that came out last year? Remember the
Box of Vision
? If you, like me, decided that it was too expensive then, it's currently on Birthday Sale. If you've ever looked at a Box of Vision, you'll want one; not only does it have every album's original artwork/booklets/what-have-you, but they've included some new liner notes and essays in a fab LP sized book. I'm getting one as a birthday present to myself (October babies!). Opinion within the Beatle community seems to be that such a sale shouldn't take place ("imagine no possessions!" has been ringing on every forum), but I think it's great. Though commercial in its purpose, the end product results in you getting hold of more information about someone you admire. Nothing's wrong with that, folks.
* If you'd like, you can celebrate along with me: I'm planning to kick off the day with "It's Johnny's Birthday" from All Things Must Pass, then spend the afternoon enjoying John's beautiful musical legacy, and, before the day is over, raise a teacup to him.
Whatever you decide to do, THINK PEACE, ACT PEACE, SPREAD PEACE, IMAGINE PEACE.
To my boy, my fella, my guy: happy birthday, love. You're just seventy-one years into forever, darlin'. Thank you for everything; global, personal, now and always, even if I don't always listen (I'm only a stupid human, you know).
Big love to you and little Sean (I know he's thirty-six years old today, but he'll always be little Sean as far as I'm concerned)!