It has been a busy day. After meeting deadlines, it was time to put up our Christmas tree. Since my Grandy has moved to our tiny town, he has been at our house more often, and we have been at his new apartment a good deal of the time, too. It was really the first time we had had anyone over to our house to decorate the tree; naturally, I channeled my inner post-war bride, and put together a spread...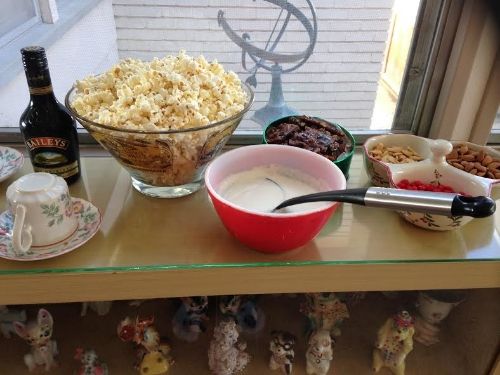 Home-made eggnog, and home-made pecan toffee, with other snackables.
Between the cookery and holiday cheer, though, it is highly-highly-highly important to take at least one minute out of today to Think Peace, Act Peace, and Imagine Peace. My hope is that, perhaps, by taking a minute out of your day to do so today, you might continue to do so tomorrow, and the next day, until peaceful thought turns to peaceful action; I can't simply preach it to you, you have to do it yourself. We all do, and it isn't always easy. Just for now, though, think about it; take that sixty seconds out of your day.
And, perhaps, take another minute to think of an amazing human who also believes in the power of sending light and love to the world.