You know, the title of this blog was going to be "Botanical Bonding", but I think the one we've got suits the day a bit better.
ANYWAY.
Seester and I spent the morning in a basement... umm, I mean, at the Botanical Gardens, "learning" all about photography. Sort of.
Our morning was kind of like this...
...but all in text, and not toward each other. 'Cause we're Rock 'N' Roll like that.
Anyway, we got to take pictures of some lovely flowers, so I got to stretch my macro muscle (because that's what it's called) and take some shots of more tropical fare, and other bits.
You say you'd like to see them?
Really?
Do you mean it?
Well, you're watching 'em, anyway.


Now, wasn't that fun?
I thought it was.
And the Botanical Garden is boasting free admission through the month of June,
so perhaps we'll go back sometime when we've got more time to spare.

Oh, and perhaps you were wondering... Lester Who?
Well, I've Googled him, and this, apparently, is Lester.



Lovely lad, but he's not our Reginald Kitty...



And to think, we almost made it an entire post without our Reginald.
At least you escaped without mention of Paul...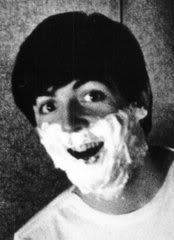 ...oh, never mind.