I only just now realized what day it is.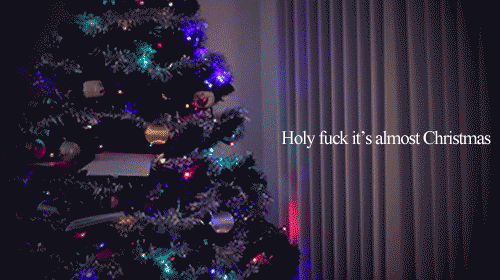 With that said, I have finally wrapped every last present, and meticulously placed them around our tree; I have been baking cookies as fast as people will eat them (my Toasted Pecan Bourbon cookies with Bourbon Cream Cheese Icing was by far a stand out, with over three dozen disappearing in three days, and only three people live here in the first place); the Christmas music has been driving me insane for the last eleven days -- I've been counting; and almost every house on our block has been decorated with glowing lights, forcing me to wear my sleeping mask well into the night. Despite all of these festive doings, my granddad -- the bastion of Christmas cheer, and good will toward man (figuratively, that is) -- begged the fatal question just a couple of days ago: "do you have the Christmas spirit?"
I couldn't disappoint him; he asked so sweetly, with a child-like zeal in his blue eyes. "Not yet," was the best I could muster.
Truth be told, I haven't had "the Christmas spirit" since 2005. Thinking back to everything that was going on about that time, I can see why: that second Paul concert -- our very first limo watch! -- was a major life changing event for me (it was less about "I'm going to see that guy that used to be a Beatle" to "dear-God-I-love-this-man-more-than-most-of-my-family-members"); couple that with our exciting first trip to Las Vegas having been finalized two days before Christmas itself (yeah, a lot happened on that trip) and it's no wonder that the holiday spirit has rather forsaken me. I say forsaken because I try so hard every year to be festive, and it never bloody works. This year is no exception, either. After finals week, I decided I was going to be festive, damn it. I pulled out my Christmas jammies with the vintage Santas and puppies on them; I rifled through my drawers to find my Christmas socks; I went to my closet to pair up my Christmas t-shirts with matching cardigans. With the Christmas music blaring through the Bose that so often blares much more preferable melodies, I commenced with the decorating, the wrapping, and the general joy making. This lasted for, approximately, four hours. Now that ten days have past, the music is getting on my nerves, the decorations are cluttering up the house, and I've run out of things to wrap (it's my favorite thing about Christmas, don't look at me like that).
I was ready to give up on the whole idea of Christmas. Actually, I'm still rather fond of that idea, if I'm being honest. There is a part of me, though, that wonders if that's such a good idea. I've been wracking my brain, trying to think of Christmas memories that might put me in a festive frame of mind.
Sure, there were a few flashbacks that came to mind. There was the time that my sister and I were tricked into thinking we were going to be given matching life vests with our initials on them, but were presented with matching laptops, instead; looking at the tree, I remember the ornament that I liked to feel the smooth plastic bottom of, so all the paint is rubbed off the underside; or, heading to the way-back machine, a little group of kindergarten kids roaming the halls of a seemingly deserted high school, forced to watch their band play Christmas carols, and little old me swelling with pride because I had somehow ended up holding hands with the cutest little boy in the whole grade (that is, until he kept repeating the word "oboe", which lead to learning more valuable lessons for the future).
Even with the remembering, there was an element that I couldn't ignore: just like the rest of the year, music had intertwined its way through the memories, weaving their way into my reminiscences like ivy threaded in a trellis. Believe it or not, as a small child, the music was one of my favorite elements of the season -- yes, really. How many times did my sister tell me to "play something other than the Alvin and the Chipmunks album"? That's usually when I'd put on the Loony Tunes, or the Muppets. Cassette tapes, mind you, either in our family stereo (it was a reproduction piece, that looked like it was from the 40's), or my little blue and silver boombox.
In the spirit of the season, I have put on my Rob Gordon hat, and compiled not one, but two Top Five lists.
The first is the Top Five songs that I remember from those now-ancient tapes, but are never-ever-ever played on the radio, and receive little, if any, attention. (Side note: don't pay attention to the videos, we're focusing solely on the music, here, people.)
DISCLAIMER: You will notice a conspicuous absence of Paul McCartney, and John Lennon. That is because, when I play these kinds of games, I have to take their glorious superiority out of the equation all together; if I didn't, no one else would get to play.
From the 1965 album
Holly Jolly Christmas
, the fabulous Burl Ives sings "Christmas Child" (some sound effects were added by the person who uploaded the video, but I couldn't find another copy of the song, so we'll just have to live with it)...
Christmas just ain't Christmas without Elvis, and this song has been a staple in my family since before I was born. From 1970,
Elvis' Christmas Album
, "Mama Liked The Roses"...
The third song on the list is connected to a wonderful memory of my little family loading into the giant old van we had many moons ago, putting this album into the tape deck, and rubbernecking the fancy light displays in the high-falutin' end of town. From 1963, Alvin and the Chipmunks sing "Wonderful Day", the first track of side two of
Christmas with the Chipmunks, Volume 2
...
Another family favorite since ever, the fantastic Karen Carpenter (OK, and Richard, too), sings "It's Christmas Time/Sleep Well, Little Children" from the 1978
Christmas Portrait
album...
We all know I am a child of the 90's. One of my earliest Christmas memories is of this song, and I still love it to this day. From the New Kids on the Block's 1989 album
Merry, Merry Christmas
, our first Top Five concludes with "Last Night, I Saw Santa Claus"...
How are we holding up, folks? Are we ready for the second Top Five list?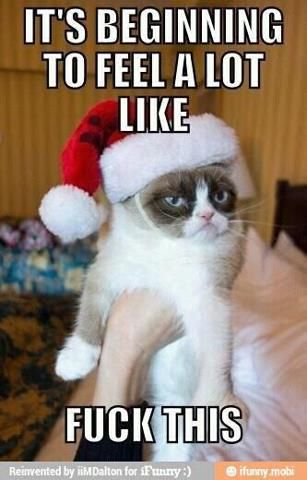 The next set are Christmas songs that I love, but don't receive any airplay. Not a lick. Sure, they can play that terrible Bruce Springsteen version of "Santa Claus is Coming to Town", or "The Little Drummer Boy" thirteen times in a day (true story), but these songs may as well not exist in the radio world.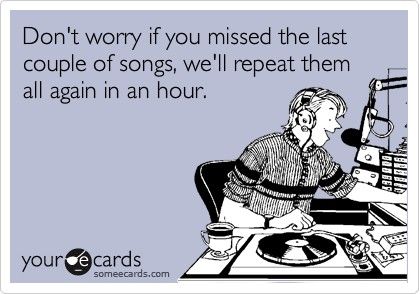 Topping the list is the Plain White T's awesome song, "Christmas Won't Be the Same Without You". It was part of the
All Wrapped Up
compilation in 2009, and it is, well, awesome. (Also, pay attention to the video in this one, if you want. It's Tom Higgenson in red trousers, I'll be paying attention with or without you.)
Who doesn't love Harry Connick, Jr? If you don't, you should really get yourself checked out by a professional. From the 1993 album
When My Heart Finds Christmas
, the sorely underrated "What Are You Doing New Year's Eve?"...
Dean Martin's beautiful voice really shines in "I've Got My Love to Keep Me Warm", from the 1959 album
Winter Romance
. It seems that the radio stations are familiar with the song itself, but not this fabulous version of it...
Yes, the original version of "Last Christmas" is wonderful; however, if I get to pick what version I'm going to listen to, it will probably be The Maine's, from their 2008 EP
...And A Happy New Year
. Truth be told, there probably isn't too much I wouldn't listen to if John O'Callaghan was singing, and Jared Monaco was playing guitar (even that cover of "Girls Just Wanna Have Fun" that was released last month [loved the music -- exactly the awesometasticness you might expect from their post-
Pioneer
material -- but something about it just didn't feel right]). And when I think how many times I've had to listen to the Glee version of this song, instead...
The sentiment of this song is the hopeful melancholy Christmas often brings. You would think that the Powers That Be in Radioland would want to play something from the Goo Goo Dolls, but this song goes practically unheard during the Christmas season. Maybe it's because some folks don't actually think of it as a Christmas song; I, however, see the value of subtle references. Just because a song doesn't explicitly talk about tree-trimming-mistletoe-hanging shenanigans, that doesn't mean it can't be a Christmas-y song in itself. Rounding out our second Top Five, from 2005, "Better Days"...
I'm chucking in two bonus songs, because I couldn't think of three others to complete another Top Five. Hey, at least I'm honest. These are Christmas songs that I love, but can never, ever be played on the radio -- or, in some cases, mixed company.
Paul Simon and Steve Martin team up for the best version of "Silver Bells" the world will probably ever see...
How can you not love this final song? Especially the 2010 single version, rather than the
Dirty Work, Deluxe Edition
version. Yeah, I'm picky, sue me. Hide yer mothers, it's "Merry Christmas, Kiss My Ass" (not the video, because that was just a damn disappointment, and it hasn't blown over yet)...