I don't watch much television. As a public schooler in the 90's, I watched more television than was probably good for me; once I made the switch to home education, however, I lost all interest in the medium. Unless it was Fox News, I really didn't care. Thirteen years later, I'm still pretty much that way; I don't know who or what is on television (except The Bachelor), but I like to make a stupid display of shouting Fox News anchors' names. Depending on what's going on that day, you can hear a wide range: "CAMPAIGN CARL!"; "YOU TELL 'EM, MEGYN!"; "SHEP! SHEP! SHEP!"; or, my favorite "IT'S THE SPACE COWBOYS!"
I officially have no life. Why? I watched this live. And I still think it's funny. Go, Karl!
If I watch anything on television now, it's generally from Britain. BBC period dramas, mostly, though I will watch films with my favorite actors in them...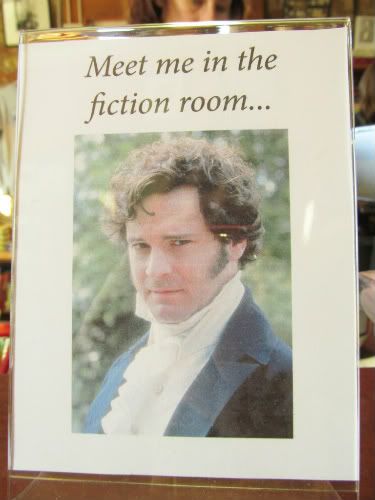 But why isn't it non-fiction?
Either that, or the films are so old, talkies were still a novelty.
So, imagine my displeasure when my father asks "have you watched the cougar?" yesterday afternoon.
What the hell is "the cougar"? Is it some new show I don't know about? I had no clue.
"No, they played it after 'Arsenic and Old Lace' the other day, and it's about a cougar. They do some crazy stuff in it, so I want you to see it."
Hmmmmm. OK. That clears everything up.
So, he gathers my mother and I in front of the magical HD box, and we begin to watch.
As he starts to play the short film, I ask him the important question: "they don't kill the cougar, do they?"
"No," he said, "nothing dies in it."
'At least nothing dies,' my mental narrator said, 'because he knows I have a difficult time with animal violence. Although,
he
has difficult time remembering I don't eat meat. I hope there's nothing disturbing in this film. He wouldn't show it to Mama, either. After all, when you live with someone for thirty-six years, you're bound to remember that they don't like bad things happening to widdle animals.'
As I watched the first couple of minutes of the film, I remembered why I hate television.
Something about Little Surefoot having to herd sheep, while his mother sold baskets by the roadside. I don't even know. All I can tell you is that I was not pleased with how this film was turning out. The cougar was an ominous figure, ever-present when Little Surefoot made his rounds with his ruddy sheep. And then, Cowboy Jim has been called up to hunt down the cougar. Hmmm. This doesn't sound like a non-violet film. One dead calf (which, by the way, was an actual dead calf) and a lasso around the cougar's neck later, and I'm outta there like yesterday.
Long story short: the paternal unit and I still aren't speaking.
How many folks here watch Supernatural? What does it matter, I can't see you, anyway.
My mother and sister like the show, so I watch it for them. After the most recent episode, though, I realize that it truly is not my cup of tea. I don't mind when the show revolves around the monsters going bump in the night -- on occasion, that's even entertaining. When it steps into giving nutjobs ideas, though, I'm out. If you haven't seen it, SPOILER ALERT! OK? Any show that focuses on actual human stuff creeps me the hell out, and I just plain won't watch it. An actual serial killer? Really, Supernatural? One who wants to be possessed by the demon that had hold of him before so that they can kill together? Who tracks down and stalks his victims? And, most importantly, the son-of-a-bitch who KILLED THE DOG?
The name of the show is Supernatural for a bloody reason. They need to go off and find their stupid Leviathans, so Castiel gets some justice for saving the Winchesters' asses from the Apocalypse they started.
If I want a story about screwed up humans, I'll just watch
the scenes from Sybil that deal with her childhood
. OK? Side Note: I just had to explain to my mother what exactly happened in Sybil. Dear God.
Even music videos make me scratch my head, sometimes. College keeps me pretty busy, so I have only just gotten around to watching the latest video from The Summer Set. They aren't my favorite band in the entire world, but I got to see them open for The Plain White T's back in October, so I was curious to see what they would put out. That, and I saw them perform the song live.
And then, this happened.
As the video unfolded, I thought it accurately depicted the mood of the song: young, reckless, stupid, doing things you'll regret later. I got that bit. It was the bludgeoning I couldn't wrap my brainbucket around.
Sure, you could put on your English major hat and read some sort of bollocks into the ending of this video. You could say that, just like a first love, you have to kill it before it kills you (am I alone on that one?); I get it, I dig symbolism like nobody's monkey.
But really?
I was fine with it until she dragged him behind the car.
To quote one commenter on YouTube: "Geeze, it's just a Volvo, lady".
What can we learn from this analysis?
Firstly, I'm just going to stick to watching Fox News.
We were actually evacuated from hurricane Rita. Remind me to tell you about it sometime.
Secondly, I really miss Candleford.
Thirdly, I don't remember Maggie Smith in this film at all.
What? I was looking for films with my favorite actors in them.
And, fourthly, if you're going to watch weird music videos, the British do it best.